12 bedrooms Stylish & Affordable Accommodation 
near Echo Beach Canggu Bali 
12 bed rooms - Mojo Resort is trendy accommodation ideal for surf lovers, groups, couples or families. Not a surf camp but much much more. Relax, chill, and enjoy the experience and village style surroundings. The Resort is a collection of purposely built dwellings with upper and lower guest rooms, a total of 12 rooms, all looking over a central garden and swimming pool. Beside the pool is the central 'Chill' pavilion where guests can lounge and relax with smooth music and Balinese tranquil ambience. A stylish dining pavilion with guest amenities and natural wood kitchen adjoins the lounge pavilion on one side, and on the other side, a traditional Balinese gate leads through to the parking pavilion, all within a secure walled paradise that is Mojo Resort. The "Lumbung" or rice granary is part of Bali's unique cultural heritage, traditionally used to store rice under the protection of the goddess Dewi Sri. We have adapted the design to create functional and charming accommodation lumbungs for the enjoyment of our guests. Mojo Resort has 6 lumbung huts with all together 12 guest bedrooms, each with a balcony pool view. The rooms may be comfortably configured with one queen size bed or two single beds. All guest rooms have clean fresh linen, AC individual air conditioners, flat screen TVs, safety boxes, mini refrigerators, open to nature bathrooms with hot shower, and free WIFI. A café style dining room adjoins a fully equipped kitchen for guest use.  A convenient snack menu with complimentary continental breakfast with coffee/tea is available and in room massage is available on request. Mojo Resort provides a unique bali retreat vacation experience away from crowds, and located near to the famous surfing spot, Echo Beach Canggu. BEST RATES & FRIENDLY SERVICE = EXCELLENT VALUE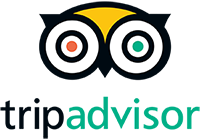 https://www.tripadvisor.com/Hotel_Review-g311298-d6828124-Reviews-Mojo_Resort-Canggu_Bali.html
"Very cozy place!" 5 of 5 stars Reviewed 26 October 2015 We just loved this place! We stayed here for 3 weeks. I was mainly training at bali mma in the morning and my girlfriend stayed at the pool until i came back. The rooms are really nice and clean. They clean the rooms daily. The upper rooms got an open bathroom which is awesome! The staff (especially Wayan) are so polite and helpful. They even fixed my flat tyre i had on my bike! Also you can order food to your room. The only downside is the meager breakfast. The rates are also very cheap. I would definitely recommend this place!
Stayed October 2015, travelled as a couple nEEdLzZz Zurich, Switzerland
---
"Bali MMA super convenient. " 5 of 5 starsReviewed 21 July 2015 I came for the sole purpose to train at Bali MMA which is nearby. You could walk but you will scooter. Mojo is beautiful and there's areas you can chill out that aren't just your room. Pool is great. General vibe is super relaxed and quiet. The foyer area is great for hanging out and keeping to yourself as well as meeting new people. Hotel is everything you need though not immediately apparently so. Breakfast is included but is essentially toast. Approach the staff for bottomless coffee. Though there is no in-house restaurant you can order from the delivery menu that is extensive, super cheap and convenient. Totally recommend the Bali special pancakes and a large Bintang for a perfect midnight snack. Landry can be dropped off with reception staff. Comes back around 24 hours later. I hired a few scooters while here. The best from Mojo. Better brakes and motor than others I found. The shower heads are awesome. Outdoor showering and non stop hot water. Only hassle is keeping the door closed really quick as fly screens are non existent. I'll be back for sure. Very good smaller style hotel (more like a villa) that I enjoyed a great deal.
Stayed July 2015, travelled solo Jess F
See All Reviews..
Visit our other partners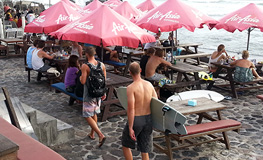 Canggu has become the place of choice for a lot of expats and local surfers to live and so there is a sense of community here.
Read more

»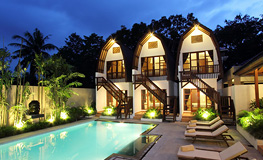 Photo gallery of Mojo Resort, Bali's Best Romantic and affordable Bungalows near Echo Beach Canggu
Read more

»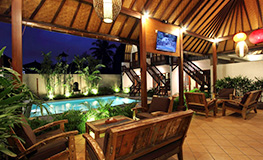 Minimum 3 nights stay at low season and 5 nights at high and peak season unless for special circumstances
Read More

»